Caught on camera: Forest fire burns tree from the inside out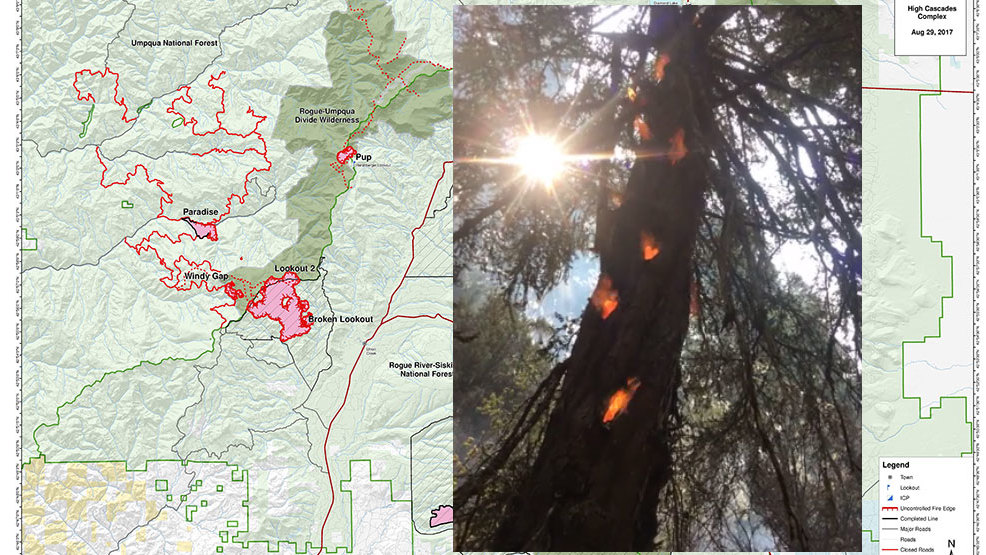 EUGENE, Ore. - Wildland firefighters sometimes witness phenomenon the rest of us can only imagine.
Consider the "fire whirl", a fiery twister that looks like a tornado of flame.
Or pyrocumulous clouds, which form not from sun-warmed ground like cumulous clouds but rather from the intense heat of a forest fire.
Then there is this.
That's a tree burning from the inside out, with flames peeking out through holes in the bark.
The brief video clip, presented here on a loop, was seen on the Paradise Fire in the High Cascades Complex.
The High Cascades Complex includes 20 fires burning in Crater Lake National Park, the Rogue River/Siskiyou National Forest on the High Cascades Ranger District, the Umpqua National Forest, Tiller Ranger District, and the Fremont/Winema National Forest in the Sky Lakes wilderness.
Thirteen of the fires have been contained.
Firefighters are working to contain the other 7.
The complex dates back to July 26, when lightning sparked the Blanket Creek Fire.
Three days later, another lightning strike ignite the Spruce Lake Fire on the west side of Crater Lake National Park.
A Level 1 "Be Ready" evacuation notice was put into effect for Mazama Village at Crater Lake National Park on Sunday. That notice remains in effect.
"The Level 1 notice informs residents and visitors to "be ready" for a potential evacuation of Mazama Village, including employee dormitories and trailer sites, in the event that the Blanket Creek Fire approaches these areas," park officials said in a statement. "Current or projected threats from the approaching fire indicate that there may be a need to evacuate in the future, however, there are no mandatory evacuations at this time. Rim Village, park headquarters and other areas in the park are not affected by this Level 1 notice."
Unmute