'One chance to get this right': Oregon managing total solar eclipse as a public emergency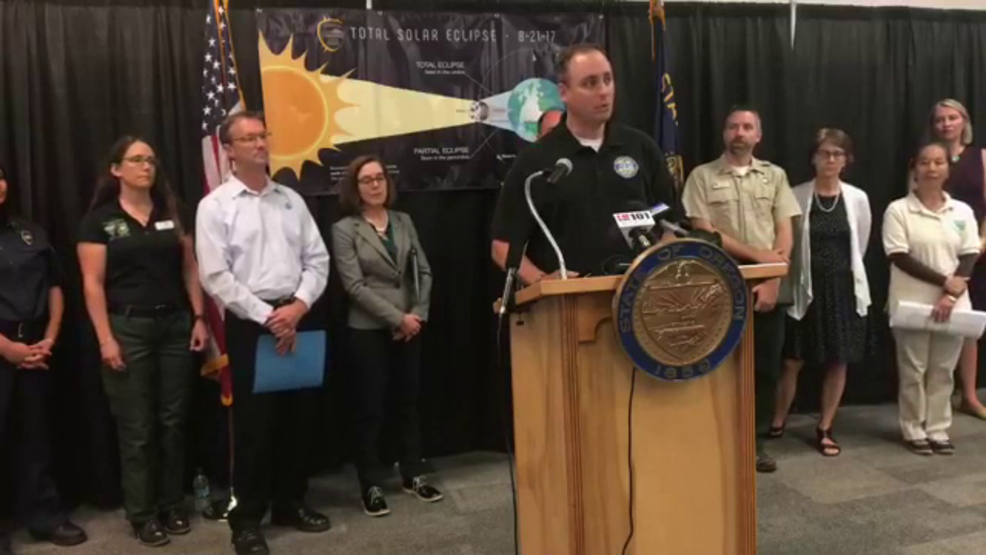 SALEM, Ore. - The timing of a weather system currently forecast to arrive a day after the total solar eclipse August 21 is one of the things to watch as Oregon prepares for an influx of as many as 1 million visitors along the path of totality, state officials said Tuesday in a briefing.
ECLIPSE | More total eclipse news and information
Forecasters from the National Weather Service anticipate normal summer temperatures August 21, a welcome relief after weeks of excessive heat and air quality fouled by wildfire smoke.

But cloud cover could be a problem along the Oregon Coast and in the Willamette Valley. Central and Eastern Oregon have the best chance for an unobstructed view of the eclipse, forecasters said Tuesday.
Public Safety
"We've never really planned for an event quite like this, the size, scope, and geographic scale," said Andrew Phelps, director of the Office of Emergency Management. "We have one chance to get this right."
For planning purposes, the state expects 1 million visitors from out of state, he said. Oregonians will also likely drive to the path of totality.
Emergency planners anticipate problems with traffic and the communications network. Travelers should carry a paper map in case smartphones will not work.

For Oregon State Police, it's an "all hands on deck" scenario, Lt. Bill Fugate said.

Motorists are urged not to stop on the shoulders of highways and interstates during the eclipse.
Fugate said emergency vehicles need the space - and the extreme fire danger makes pulling off to the side of a road a possible firestarter.
There are also concerns about human-caused wildfires.
State forestry crews and the National Guard will be deployed across the state to respond.
Phelps said the state's emergency response is scheduled to begin Wednesday, August 16, and continue through Tuesday, August 22.

Gov. Kate Brown said the state and federal agencies started working together to plan for the solar eclipse in June 2016 during the Cascadia Rising earthquake simulation.
"We are hoping folks will use common sense as we move forward," the governor said. "We hope people with have a great time for the 2017 eclipse, especially in the path of totality."
Unmute